Sister Ann visits Primary 4
28th Jun 2012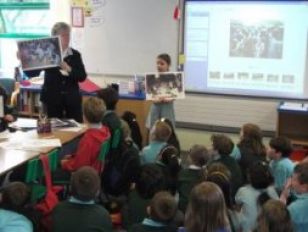 Sister Ann came to visit Primary 4 today to share the work of her friend Sister Imelda in Kenya. She shared photographs of the children of St Clare's School as well as stories of their daily life. The children who made their First Communion donated £195 for food and school supplies for them. Sister Ann said the childen will be really happy to know that someone was thinking of them.
Oakgrove Integrated Primary School and Nursery, 19 Limavady Road, Derry~Londonderry, BT47 6JY
T: 028 7134 9644 | F: 028 7131 2945 | E: info@oips.lderry.ni.sch.uk

Website by School Web Design | Login
Oakgrove IPSN is not responsible for the content of external Internet sites. We recommend adult supervision for all links to external sites.