ICT Accrediation at Oakgrove

The Children in both Key Stage 1 & 2 participate in the The Primary ICT Accreditation Scheme. It is a voluntary scheme for pupils . It will provide you with a framework to develop, enhance and assess your pupils' ICT skills. At the end of each key stage, pupils will be able to be awarded with a certificate detailing their level of ICT competence. CCEA will then accredit your school for being able to effectively assess using the UICT Levels of Progression. Click below for more information.
ICT at Oakgrove
Information and Communications Technology, across the curriculum, has the potential to transform and enrich pupils' learning experiences and environments. It can empower pupils, develop self-esteem and promote positive attitudes to learning. Additionally, the creative use of ICT has the potential to improve pupils' thinking skills, providing them with opportunities to become independent, self-motivated and flexible learners.
Using ICT describes the ability to handle and communicate information, solve problems and pose questions through the use of information and communication technologies in a variety of contexts across the curriculum. It includes collaboration within and beyond the classroom; allowing pupils the opportunities to share and exchange work; and exhibit and showcase their learning.
Across the curriculum, at a level appropriate to their ability, pupils should be enabled to develop skills to:
EXPLORE
Pupils should be enabled to:
access, select, interpret and research information from safe and reliable sources;
investigate, make predictions and solve problems through interaction with digital tools.
EXPRESS
Pupils should be enabled to:
create, develop, present and publish ideas and information responsibly using a range of digital media and manipulate a range of assets to produce multimedia products.
EXCHANGE
Pupils should be enabled to:
communicate safely and responsibly using a range of contemporary digital methods and tools, exchanging, sharing, collaborating and developing ideas digitally.
EVALUATE
Pupils should be enabled to:
talk about, review and make improvements to work, reflecting on the process and outcome and consider the sources and resources used, including safety, reliability and acceptability.
EXHIBIT
Pupils should be enabled to:
manage and present their stored work and showcase their learning across the curriculum, using ICT safely and responsibly.
Programming and Coding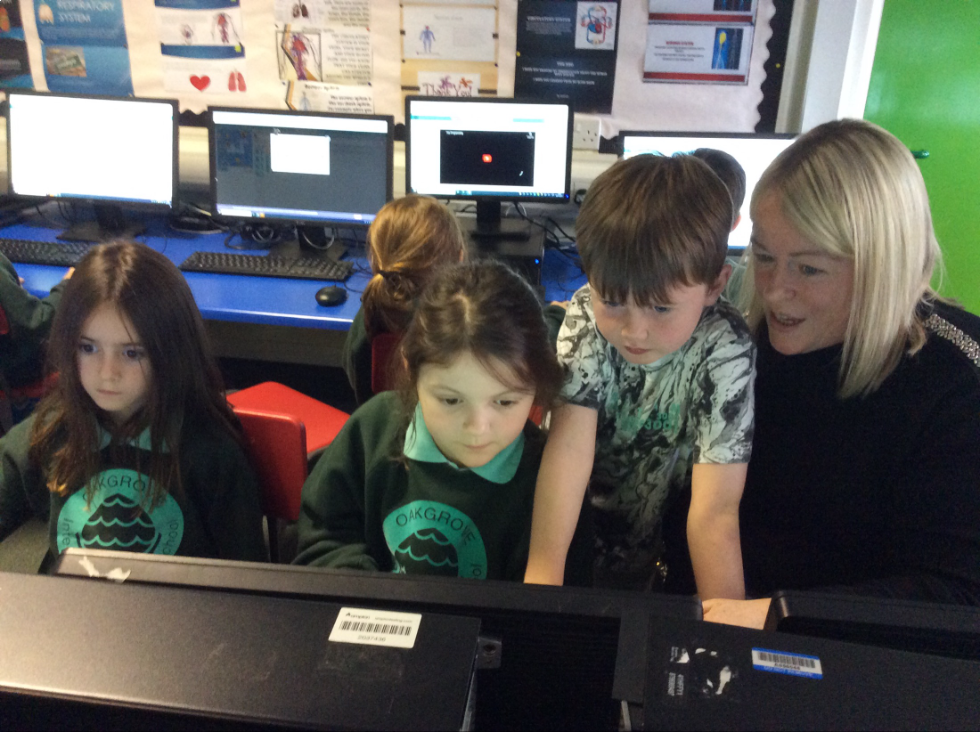 ICT Activities (Adult Supervision Required)
Using the SeeSaw App Letter for Parents/Carers
Coding Week 2021
The School is not responsible for the content of external Internet sites. We recommend adult supervision for all links to external sites.
Primary Partnership with the Nerve Centre

Oakgrove IPSN have worked with The Nerve Centre's Creative Learning Centre. These year long programmes are called the Primary Partnership Programme and will support Oakgrove as we develop and embed our creative use of digital technologies.
Internet Safety (Adult Supervision)
Tom Jackson Microsoft's Business and Programme Manager gave a talk to the children of Key Stage 2 about e-safety. This was supported by Tim Cooke from the PSNI who gave a very informative talk to parents on e-safety last month. Tim has been a regular visitor to the school giving talks to Primary 5, Primary 6 and Primary 7 and helping them to use the internet safely. He is supporting us in making the children and parents aware of the dangers of the internet, how to stay safe there and what to do if we are unsure about something. This talk was in advance of Internet Safety Day.
For further information on the topic for
BBC Newsround "Caught in the Web" Key Stage 2 Film
Oakgrove Integrated Primary School and Nursery, 19 Limavady Road, Derry~Londonderry, BT47 6JY
T: 028 7134 9644 | F: 028 7131 2945 | E: info@oips.lderry.ni.sch.uk

Website by School Web Design | Login
Oakgrove IPSN is not responsible for the content of external Internet sites. We recommend adult supervision for all links to external sites.