P.E.& PD&M (Physical Development & Movement)
PD&M – PHYSICAL DEVELOPMENT & MOVEMENT AT FOUNDATION STAGE
Children enter primary school having had a range of movement experiences in the home, pre-school setting and the local community. They will have developed skills of control, co-ordination and manipulation and will have some awareness of space. The development of the fundamental movement skills needs to be nurtured, not only because they are important for the child's long-term health and well-being, but because they support the child's physical development.
Physical Development and Movement is about experiencing and developing a range of fundamental movement skills that will improve co-ordination, locomotion, control, balance, and manipulation. In addition, physical development helps children gain confidence and self-esteem and enables them to feel the benefits of being healthy and active.
For further information about PD&M (Physical Development & Movement) at Foundation Stage from The Northern Ireland Curriculum click here.
PHYSICAL EDUCATION AT KEY STAGE 1 & KEY STAGE 2
Physical Education in the curriculum provides the opportunity for specific attention to be given to the physical development, health and well-being of children.
For further information about P.E at Key Stage 1 & Key Stage 2 from The Northern Ireland Curriculum click here.
Clubs
Reference: After School Clubs.
Below is a list of After School Clubs being offered in Spring Term 2022. Please ensure that arrangements are in place for collection of all pupils at the end of the clubs as there is no supervision available afterwards.
Tuesday-
Netball Club P6+7 (3.00-4.00) Mrs Laverty
Wednesday-
Maiden City Football P1-2 (2.00-3.00)
Maiden City Football P5-7 (3.00-4.00)
Thursday -
Maiden City Football P3+4 (3.00-4.00)
Friday -
Skill School Dance P1+2 (2.00-3.00)
Skill School Dance P3+4 (3.00-4.00)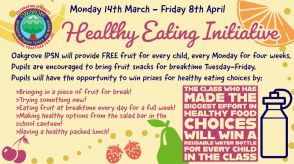 Key Stage 2 PE Survey
Key Stage 2 pupils are asked to complete the PE survey in school with your teacher. Click on the link below
P.E (PD&M) and Extra Curricular News
Oakgrove Integrated Primary School and Nursery, 19 Limavady Road, Derry~Londonderry, BT47 6JY
T: 028 7134 9644 | F: 028 7131 2945 | E: info@oips.lderry.ni.sch.uk

Website by School Web Design | Login
Oakgrove IPSN is not responsible for the content of external Internet sites. We recommend adult supervision for all links to external sites.