Oakgrove IPSN support the Derry-Strabane Civic Action Group for Refugees Campaign
14th Apr 2016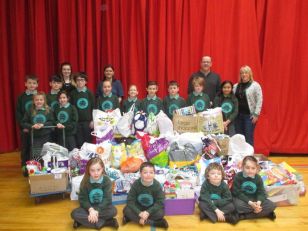 As part of the Mayoral Initiative, 'Derry-Strabane Civic Action Group for Refugees Campaign', the children of Oakgrove were asked to imagine their family arrived, traumatised and bereaved, in a new country. They don't speak the language. They don't understand how anything works. They don't know their way around.
A small number of about 10 Syrian families will be coming to live in the Derry City and Strabane District Council area in the Spring. They will arrive with practically nothing. All of their family possessions fit in one bag – but they are still hopeful of a new start, safety and a welcome.
We wanted to help these families by putting together a 'Starter Pack' to donate to a Syrian family on arrival here.
Oakgrove IPSN collected and put together numerous packs for the Syrian families.
FOUNDATION STAGE: P1 & P2 gathered items for the Children's Starter Packs.
KEY STAGE 1: P3 & P4 gathered items for the Household Starter Packs.
KEY STAGE 2: P5, P6 & P7 gathered items for the Medical/Hygiene Starter Packs.
We are very proud of this charity work and wish to thank the Oakgrove community for their support for this initiative.
Oakgrove Integrated Primary School and Nursery, 19 Limavady Road, Derry~Londonderry, BT47 6JY
T: 028 7134 9644 | F: 028 7131 2945 | E: info@oips.lderry.ni.sch.uk

Website by School Web Design | Login
Oakgrove IPSN is not responsible for the content of external Internet sites. We recommend adult supervision for all links to external sites.