Primary Partnership with the Nerve Centre
Primary 1 Animations
Primary 1 were very proud of themselves. They made these wonderful animations. Titles and music were added by their teaching staff.
Do you want to build a Snowman?
Watch the wonderful animation below by Primary 2.
Journey to the Moon
Primary 2B have been learning all about space and decided to go on a Journey to the Moon. Titles and music added by Teaching Staff.
The Seasons
Primary 3 used animation to show how trees change with the seasons.
Matt & Molly Build a Snowman
Primary 4 have been working hard to create snowy animations showing Matt and Molly building a snowman. Click below to see the work in Primary 4A and Primary 4B.
The Owl Who Was Afraid Of The Dark
Primary 5 are currently studying The Owl Who Was Afraid Of The Dark in class. Look at their very clever animation.
Ancient Egyptian Animation
Primary 5 have been working on an animation about Howard Carter and his discovery of Tutankhamun's Tomb.
The Vikings invading Germany
Congratulations to Primary 6. They have been studying the Vikings in History and made these films.
Primary 7 Religion Work
The Primary 7 children at Oakgrove IPSN study many world faiths and religions. The Roman Catholic children have the opportunity to make the Sacrament of Confirmation. Below are animations about the work that they cover in class. There are two films below: 'A School of Many Faiths' & 'Confirmation Animation'
Primary Partnership Programme

Oakgrove IPSN will be working with The Nerve Centre's Creative Learning Centre this year. The year long programme is called the Primary Partnership Programme and will support Oakgrove as we develop and embed our creative use of digital technologies.
The year has been a great success so far. This page shows some of the work completed to date.
P5 explore the City Walls using STEAM, QR codes and iPads
Click on the Movie below to see what QR codes are and how they work. You will also see how Primary 5 utilised STEAM and QR codes to enhance their knowledge of their city.
Primary Partnership & Amelia Earhart Celebration
Click on the picture below to see how the Nerve Centre's Creative Learning Centre brought to a close its year-long Primary Partnership Programme with Oakgrove Intregrated Primary and Nursery School with an anniversary celebration of American aviator Amelia Earhart.
Watch the Amelia Earhart Film
Animation Twilight training with the Creative Learning Centre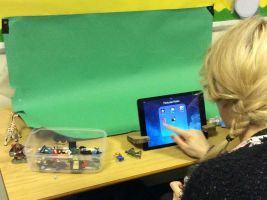 NI Science Festival P7 Workshops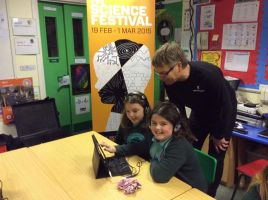 NI Science Festival is presenting a host of workshops, talks and interactive activities for young people, parents and schools across Northern Ireland. Oakgrove IPSN were lucky to secure Science in Music workshops for both Primary 7 classes.
Pupils explored the concept of music in film and how music can be used to add emotion to the images on the screen. They used iMovie on the iPad to create their own soundtracks to a movie trailer.
Oakgrove Integrated Primary School and Nursery, 19 Limavady Road, Derry~Londonderry, BT47 6JY
T: 028 7134 9644 | F: 028 7131 2945 | E: info@oips.lderry.ni.sch.uk

Website by School Web Design | Login
Oakgrove IPSN is not responsible for the content of external Internet sites. We recommend adult supervision for all links to external sites.