Making the team
Manager (decision maker)
Design Engineer (measures and ensures car meets all specifications)
Graphic Designer (draws logo, sketches and takes photographs)
Resource Manager (organises times, ideas and presentation)
Presenter (tells the story of the manufactures of the car to the judges)
Over the next few weeks we will be setting up a task to choose each member of the team.
Homework
Over the next few weeks P6A's homework on a Thursday night will be open ended tasks related to our F1 Technology Challenge Project. The homework will be set on a Thursday night and collected pon the following Monday, ready to be used for in-class project work during the week. This should allow lots of time for extra research and loads of creativity.
Children will be free to present their homework in whatever form they choose including using the worksheet provided, printed work on the computer, large paper sheets or even by e mail.
Homework 1 - Researching the fastest things on Earth
Homework 2 - Designing the car
Homework 3 - Naming the team and designing the logo
Homework 4 - Writing our sponsorship letter and preparing for interview
Formula 1 Technology Challenge Sponsors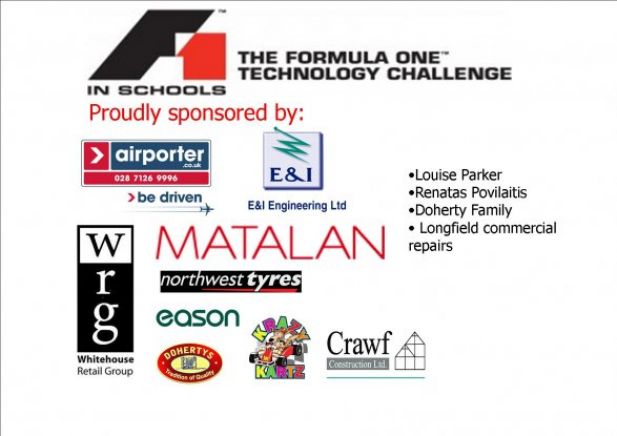 Formula 1 Technology Challenge

P6A have decided to take part in the Formula 1 Technology Challenge.
We are going to design our own Formula 1 racing car that will be raced and sponsored. Any sponsors who are interested please contact Oakgrove IPS on 02871 349644 and speak to Mr. McKernan.
P6A Formula 1 Technology Challenge - The story so far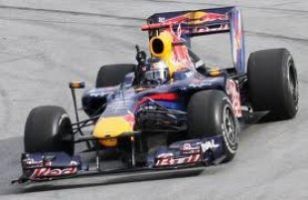 F1 Technology Challenge – The Story so far
17/1/12
Mr.McKernan showed us a project about Formula 1 racing cars because we are going to design our own Formula 1 racing cars. He showed us some samples of cars and told us the rules.
On the school website we put news updates about the Formula 1 Technology Challenge. We also asked for sponsors to contact our school.
We all agreed to research cars and how they work.
18/1/12
In pairs we made a mindmap of our ideas and decided how we can use these ideas in every class subject. We then got together as a class and made one whole class mindmap. Saule and Melissa typed up the mindmap as a PowerPoint.
We thought of all the jobs we needed to do and then organised them into FIP (First Important Priorities).
Mr. McKernan talked to Miss Bartlett after school who offered a page of the school website just for our F1 Challenge Project
23/1/12
We watched two short videos explaining the 4 principles of aerodynamics for children. They are lift, weight, thrust and drag.
We talked about how they can affect our car design.
We did some little experiments with our class fan. We talked about drag and what other vehicles and animals do to reduce the effect of drag.
24/1/12
We talked about what we needed to research to help us design a car that would go as fast as possible.
We decided we should research fast animals, fast cars and their design and also the design of other vehicles.
In our pairs we then designed a 2 page sheet for homework. We then shared these with the class and decide on the best ones. Mr. McKernan then used these ideas to make a worksheet to put on our website.
25/1/12
We had a class drag race with all our remote control cars. We measured out a race track in metres using a trundle wheel. Some children took photographs of the event and some children took video using the flip camera. We designed a table to record the times and had a starter who timed all the cars.
We all then made a bar graph using Excel to show the race results on the computer.
26/1/12
We had a circuit race today with our remote control cars. Different children got a chance to record the results and take photographs and video. After the race we learned how to make a video using Photo Story by adding our own photographs, words and music.
30/1/12
We shared our F1 Fastest Things on Earth homework. We voted as a class on the best one and Lucy was chosen as our Resource Manager. We then designed our homework sheet to help design our cars. Finally we made our own video of our remote control car event.
31/1/12
We researched the results for Formula 1 drivers last year and drew a spreadsheet table in excel. we then used the chart wizard to draw bar graphs to show the infomration.
6/2/12
We shared our designs for our F1 cars. We then voted on the cars we would most like to make for the Technology Challenge.
7/2/12
We made play dough as part of our instruction writing. We will use the play dough to make our F1 car models
8/2/12
We made our F1 car models out of plasticine. We then put numbers on our models and the class voted for their favourite model.
9/2/12
We researched good company names and logos.
13/2/12
We shared all of our names and logos for our team. We decided on "Blast" designed by Tara. We were then set a Powerpoint challenge where we all had the same information and had to see who could present it in the most professional way. Our team modellers completed the final plasticine car models which were sent off to be cut.
14/2/12
We discussed team sponsorship. We have decided that we need to know 3 things. first what we need money. Second, how much everything will cost. Thirdly, what can we offer those people who sponsor us.
15/2/12
We had a special visit today, a Ferrari 430. Many thanks to David Barber for bringing in his car and also taking part in a question and answer session with us. We also got a lot of advice and encouragement for our team.
21/2/12
We discussed what we needed sponsorship for and researched how much things would cost. We then looked at what we can offer sponsors. We also agreed our sponsorship letter should contain infomration about us,what we are doing and what we have learned. We then put together an outline plan for our letter.
27/2/12
We wrote out our sponsorship letters using the agreed fomrat. We also agreed to target sponsors using 3 contact groups.
1. Our in class contacts for businesses
2. Relevant local car or related businesses
3. Businesses local to our school
Mr McKernan then pretended to be a local business and interviewed everyone in our class who had to try and persuade him to sponsor them.
28/2/12
We revealed the final members of our 2 Formula 1 Teams. We discussed what we needed to do in our portfolio and the different roles in the teams.
Oakgrove Integrated Primary School and Nursery, 19 Limavady Road, Derry~Londonderry, BT47 6JY
T: 028 7134 9644 | F: 028 7131 2945 | E: info@oips.lderry.ni.sch.uk

Website by School Web Design | Login
Oakgrove IPSN is not responsible for the content of external Internet sites. We recommend adult supervision for all links to external sites.