Maths Matters launched
15th Nov 2015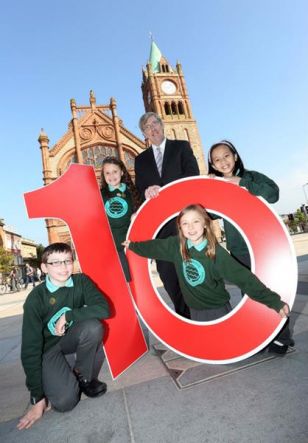 Our children recently helped with the launch of "Maths Matters – You can count on it!" in October. They met the Minister for Education John O'Dowd during the photo shoot and invited him to come visit Oakgrove IPSN.
Maths Week Ireland, the biggest maths festival in the world, took place from October 10 to October 17 and is in its tenth year.
Universities, colleges, museums and schools throughout Northern Ireland worked together to deliver an exciting programme of events. Thousands of students from schools and colleges, including Oakgrove IPSN, enjoyed a myriad of mathematical activities designed to shine a light on the fun side of maths.
Multi talented maths educators from across Europe and the USA demonstrated a different side of their skills set as they used magic, card tricks, and amazing mathematical predictions to fascinate and educate young people about maths. The week sought to promote a positive image of maths, highlighting its importance in everyday life where numbers are all around us.
Oakgrove Integrated Primary School and Nursery, 19 Limavady Road, Derry~Londonderry, BT47 6JY
T: 028 7134 9644 | F: 028 7131 2945 | E: info@oips.lderry.ni.sch.uk

Website by School Web Design | Login
Oakgrove IPSN is not responsible for the content of external Internet sites. We recommend adult supervision for all links to external sites.