"Hell and Back ZEUS challenge"
26th May 2016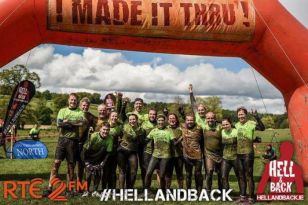 Congratulations to our "Hard as Oakgrove" team of 25 parents and staff who completed the "Hell and Back Zeus Challenge". This is Irelands toughest physical and mental endurance challenge. Over a 10K course our team of 25 "Hellraisers" conquered all the obstacles thrown at them. They had ice baths, crossed rivers and lakes, scaled up and down hills, crawled through bogs and swamps, under barbed wire and electric fences as well as many more of HELL & BACK's torturous and infamous man-made obstacles, including Satan's Pit, Hell of a Shock, Nightmare on Hell Street and Thru' Hell & High Water before finally having to climb a 10 foot wall to escape.
Our "Hellraisers" stuck together throughout but were not doing this challenge for fun, it was to raise much funds for outdoor play equipment for all the children in Oakgrove. Thank you to all who have donated to date, please keep it coming.
Oakgrove Integrated Primary School and Nursery, 19 Limavady Road, Derry~Londonderry, BT47 6JY
T: 028 7134 9644 | F: 028 7131 2945 | E: info@oips.lderry.ni.sch.uk

Website by School Web Design | Login
Oakgrove IPSN is not responsible for the content of external Internet sites. We recommend adult supervision for all links to external sites.