Welcome
A warm welcome to Primary 7 from Ms Sweeney, Mr Collins. We have a busy year ahead of us and we are really looking forward to it.
Unfortunately, you are not able to do quizzes at home. You are able to read as much as you want though!
Key Stage 2 Activities We Really Like (Adult Supervision)
Multiplication Tables (Adult Supervision)
Spelling Activities (Adult Supervision)
Around Primary 7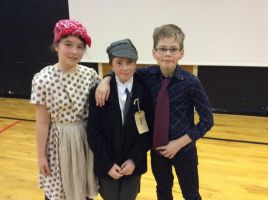 Key Stage 2 Online Homework (Adult Supervision Required)
ICT Activities (Adult Supervision Required)
Oakgrove Integrated Primary School and Nursery, 19 Limavady Road, Derry~Londonderry, BT47 6JY
T: 028 7134 9644 | F: 028 7131 2945 | E: info@oips.lderry.ni.sch.uk

Website by School Web Design | Login
Oakgrove IPSN is not responsible for the content of external Internet sites. We recommend adult supervision for all links to external sites.